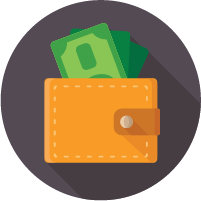 Virtual Wallet and Gift Cards for WooCommerce
The best of wallets and gift cards combined together
WooVirtualWallet is a powerful wallet and gift cards plugin for WooCommerce. With its 2 unique modes, it gives you the possibility to set up the perfect wallet for your shop :
Standard Mode :

Uses your website currency
Partial or full payment
Product Cashback
Order refund

Gems Mode :

Use your own currency
New types of WooCommerce products sold in your currency
Use gems to get immediate discounts on regular orders
Orders can mix the default currency and the gems currency

Gift Cards :

Can be used on both modes
Powerful display and emails customization
Simple or variable gift cards
Possibility to use a gift card to credit the wallet
Gift card expiration

Compatible with WooCommerce Subscriptions
Presentation widgets and shortcodes

Intuitive interface
WooRewards Integration
Standard mode : The regular wallet
WooVirtualWallet's standard mode offers the following features :
Payment Gateway - Activate a new payment gateway for WooCommerce. This new gateway will be presented along other gateways on the WooCommerce checkout page.
Partial Payment - If customers don't have enough money on their wallet, they can use the partial payment to deduce the amount they want from the order's total.
PRODUCT RULES - WooVirtualWallet gives you the opportunity to set product rules. You can either decide that a product must be bought with wallet money or that it can't be bought with wallet money at all.
PRODUCT CASHBACK - Sell Wallet Credit or simply give some cashback when customers buy products on your shop.
INFORMATION DISPLAY - WooVirtualWallet comes with a lot of widgets/shortcodes and other tools to display wallet balance, history and payment options.
ORDER REFUND - If customers paid partially or in full with the wallet, you can refund orders directly on the wallet.
WOOCOMMERCE SUBSCRIPTIONS -WooVirtualWallet is fully compatible with WooCommerce Subscriptions and the wallet can be used to pay for subscriptions and subscriptions renewals.
Gems mode : Create your own currency
WooVirtualWallet's gems mode offers a totally new way to handle customers' virtual wallets :
Use your own currency - Set up a specific currency for the wallet. It can be diamonds, gems, points or whatever you want. You have total control over that currency.
Gems Products - Create simple or variable gems products that can only be purchased with the wallet. Customers can even mix regular and gems products in a single order.
Cart & Checkout - Cart and Checkout pages are handled automatically so that the correct amount of gems is deduced from the wallet. If customers don't have enough gems to buy a product, they simply can't add it to the cart.
Gems to discounts - If customers don't want to spend their gems on your gems products, you can also set up ways for them to use their gems directly on the cart to get discounts on regular orders.
INFORMATION DISPLAY - Like for the standard mode, you have a large number of tools at your disposal to display information to your customers.
WooVirtualWallet provides an enhanced gift card feature. Sell gift cards that your customers can offer to their friends or family. Gift cards are highly customizable.
Incentivize gift cards owners to create an account on your website with WooVirtualWallet's gift cards. With an account, they can credit the gift card value directly on their wallet ! Instead of using the gift card as a one time coupon, they can credit their wallet and use the amount on multiple orders, increasing their loyalty to your website.
All these features are included for the gift cards :
Simple or variable gift cards
Standard or Gems gift cards
Can be used as a one time coupon
Can be used to credit the wallet
Unused gift card amount can be added to the customer's wallet
Directly sent to the recipient
Customizable images
Customized email title
Sender message and signature
Delayed sending
Expiration period
Possibility to refund on expiration
Optional refund fee
WooVirtualWallet also provides a complete gift cards interface to see all gift cards generated on your website.
You can edit, delete or create new gift cards directly from the back-end.
Try it for free !
The first month is free on all subscriptions plans. Take the time to test all the plugins features. Cancel the subscription at any time.
Subscription License*
All plugin features
Maintenance and Updates
World class Support
1 site
Cancel at any time
14 Days Refund**
Lifetime License
All plugin features
Lifetime maintenance and updates
Lifetime Support
3 sites
14 Days Refund**
Add To Cart
(*) All features, updates and support are available while the subscription is active. You can cancel your subscription at any time by changing your account preferences. If you cancel your subscription, all your data will remain intact but the plugin features will be disabled.
(**) The plugin must be deactivated from all websites/domains. The refund request must happen before 14 days after the purchase.
WooRewards + WooirtualWallet
Lifetime licenses of both plugins
Lifetime maintenance and updates
Lifetime Support
3 sites
14 Days Refund**
Add To Cart
WooRewards + WooVIP + WooVirtualWallet
Lifetime licenses of all 3 plugins
Lifetime maintenance and updates
Lifetime Support
3 sites
14 Days Refund**
Add To Cart
Our plugins are designed to work together and add new features to each other.
If you combine WooVirtualWallet and WooVIP, you can let your VIP members earn cashback on their wallet, set on products or on product categories.
Combine WooVirtualWallet and WooRewards to reward your customers with wallet credit or wallet gems. Create a gift shop with dedicated products where customers can spend their wallet credit or gems.
You will see below a list of all WooVirtualWallet features. There's a lot of them so we did regroup them into several sections. WooVirtualWallet is fully compatible with WPML and can also be translated by using Loco Translate.
Standard Wallet

Sell Wallet Money
Prevent credit purchase with wallet
Restrict products to wallet purchase
Product Cashback
Payment Gateway
Partial Payment
Limit payment to cart %
Add a lower cart limit for payment
Pay shipping fees
Pay charges and fees
Pay subscriptions and renewals
Configurable Gateway
Order Refund
Gems Wallet

Create your own currency
Simple Gems Products
Variable Gems Products
Sell Gems
Convert gems into cart discounts
Gems Cashback
Order refunds
Customers Management

Add/Subtract Wallet credit
See wallet history
Export excel data
Gift Cards

Simple gift cards
Variable gift cards
Standard money gift cards
Gems gift cards
Credit to wallet
Custom images
Set a message
Set a title
Set a signature
Delayed sending
Gift card expiration
Gift card refund
Optional refund fee
WooCommerce Integration

Cart Partial Payment Tool
Checkout Partial Payment Tool
Checkout Payment Gateway
Gems Cart Total
Gems to discounts on cart
My Account Wallet Tab
Widgets

Wallet Balance
Wallet History
Wallet Balance on Menus
Shortcodes

Simple Wallet Balance
Wallet Balance
Wallet History
Gems Cart Total
Gems to Discount
Wallet Menu Balancey
Partial Payment Tool
Maximum Wallet Amount on Cart
Minimum Wallet Amount on Cart
Other features

New order email wallet info
Status for order refund
WooVirtualWallet + WooVIP

Members Cashback
Restrict wallet to members
WooRewards + WooVirtualWallet

Wallet credit reward
Wallet gems reward
Automatic points conversion
Plugin compatibility

WPML
WooCommerce Subscriptions
Elementor / Beaver Builder