The ultimate VIP Membership plugin
WooVIP is the new reference for Memberships plugins for WooCommerce. With its exhaustive features and its intuitive interface, it's the best companion to create your VIP Lounges. New features are added every month to ensure that WooVIP always suits your needs :
Sell lifetime memberships or recurring ones*
Create exclusive areas on your website for your members
Set which WooCommerce products are visible for all customers and which are exclusive for members

Tease your non members customers to invite them to buy one

Define special prices for each membership, either for product categories or by product

Set exclusive shipping options and costs for your members
Create as many memberships as you want
Easy and intuitive interface

Full WordPress Roles management tool (create/edit/delete roles and capabilities)

Inform your members when their membership is about to expire and invite them to renew it
* requires the WooCommerce Subscriptions plugin
Imagine a cosy space on your website. In this space, users can see special pages, posts or products. Even better, they can have special discounts for those products.
For each membership you create, you can set the following rules :
Products discounts : Create discount by categories or directly inside products and products variations
Products visibility : Hide products for non members to create some exclusivity for your members.
Products purchase : Reserve some products for members. Non members will see them but won't be able to purchase them
Show specific content : In each product page, you can show specific content to your members on various locations. Show them how important and valued they are and create that sweet loyalty bond.
Hide price for non members
Pages and Posts Visibility : Display specific pages and posts to your members. Others won't see them (nor the menus leading to them)
With WooVIP and WooCommerce, it's easy to sell memberships to your customers. You can sell lifetime memberships or memberships limited in time.
WooVIP is also fully compatible with WooCommerce Subscriptions. Sell membership subscriptions and earn money on a regular basis.
If you want to
sell VIP Memberships to your customers
, create a WooCommerce product and inside the "WooVIP Membership" tab and enter the membership parameters:
Decide which VIP Lounge the product will give access to.
Enter the duration of the membership. If no duration is entered, the Membership is not limited in time.
WooVIP provides a full members management interface to see and edit your customers memberships
For all your customers, see what membership they have and when it will expire. You can also edit their memberships manually : grant, revoke or extend them.
WooVIP provides unique tools to show to your members how valuable their membership. In addition, it also provides tools to tease non members and invite them to buy a membership.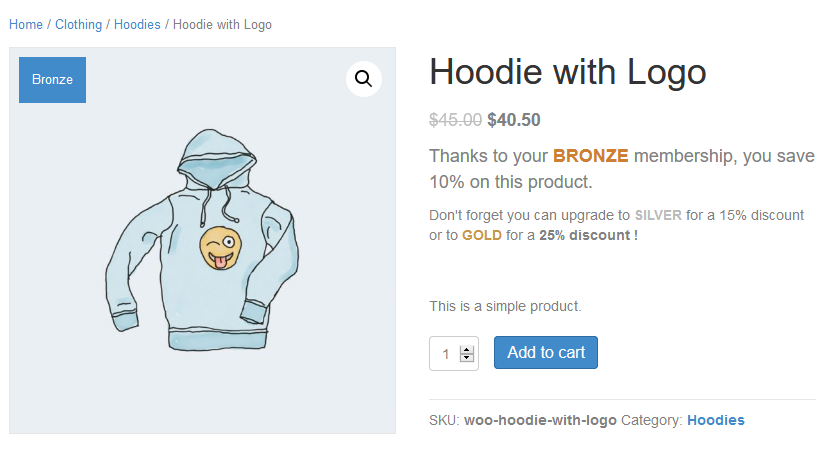 Display specific content inside your product pages for each membership. In addition, show their savings to your members on the cart page.
Moreover, you can tease non members how much they could've saved with a membership. This will help you gain new members.
Set exclusive shipping options for your members. Either give them a discounted shipping price or offer them the free shipping for their orders. The best part ? It's compatible with shipping plugins like "Table rate shipping".
WooVIP also provides a full roles management interface. It means that you can grant your VIP users with extra permissions, like access to some specific areas of your back-end.
Try it for free !
The first month is free on all subscriptions plans. Take the time to test all the plugins features. Cancel the subscription at any time.
Subscription License*
All plugin features
Maintenance and Updates
World class Support
1 site
Cancel at any time
14 Days Refund**
Lifetime License
All plugin features
Lifetime maintenance and updates
Lifetime Support
3 sites
14 Days Refund**
Add To Cart
(*) All features, updates and support are available while the subscription is active. You can cancel your subscription at any time by changing your account preferences. If you cancel your subscription, all your data will remain intact but the plugin features will be disabled.
(**) The plugin must be deactivated from all websites/domains. The refund request must happen before 14 days after the purchase.
WooRewards + WooVIP
Lifetime licenses of both plugins
Lifetime maintenance and updates
Lifetime Support
3 sites
14 Days Refund**
Add To Cart
WooRewards + WooVIP + WooVirtualWallet
Lifetime licenses of all 3 plugins
Lifetime maintenance and updates
Lifetime Support
3 sites
14 Days Refund**
Add To Cart
Our plugins are designed to work together and add new features to each other.
If you combine WooVIP and WooVirtualWallet, you can let your VIP members earn cashback on their wallet, set on products or on product categories.
Combine WooVIP and WooRewards to reward your customers with permanent or temporary VIP Memberships. These memberships can give them access to new loyalty programs.
You will see below a list of all WooVIP features. There's a lot of them so we did regroup them into several sections. WooVIP is fully compatible with WPML and can also be translated by using Loco Translate.
Memberships

Create various memberships
Sell permanent memberships
Sell timed memberships
Pages visibility
Posts visibility
Products visibility
Limit products to members
Products members discounts
Hide product prices for non members
Display specific content for members
Products variations rules
Restrict content to members
Visibility by categories
Discounts by categories
Special Member Tag
Exclusive shipping methods
Denied shipping methods
Members

See members of each membership
Add permanent membership
Add timed membership
Remove membership
Manage members permissions
WooCommerce Integration

Show savings in cart/checkout
Tease savings in cart/checkout
Tag in products lists
Tag in product page
Tag in product variation
Special price display
Customize the tag
Shortcodes

Teaser
Members Only
Membership Name
Membership Start Date
Membership End Date
Membership Remaining Days
Other features

Membership expiration email
Edit WordPress Roles
Edit Roles capabilities
Restricted pages redirection
Enable higher prices for members
WooVirtualWallet + WooVIP

Members Cashback
Restrict wallet to members
WooRewards + WooVirtualWallet

Wallet credit reward
Wallet gems reward
Automatic points conversion
Plugin compatibility

WPML
WooCommerce Subscriptions
Elementor / Beaver Builder
Table rate shipping
Our customers are invited to review our solutions on an independent website. It means that you can trust the reviews published here and verify their authenticity at any time.