Customers Management
This documentation is for the WooRewards plugin
You can access customers and points management by going to WooRewards → Customers. You will then see the following interface :
Summary
The customers management screen offers a lot of possibilities, we'll see them in details.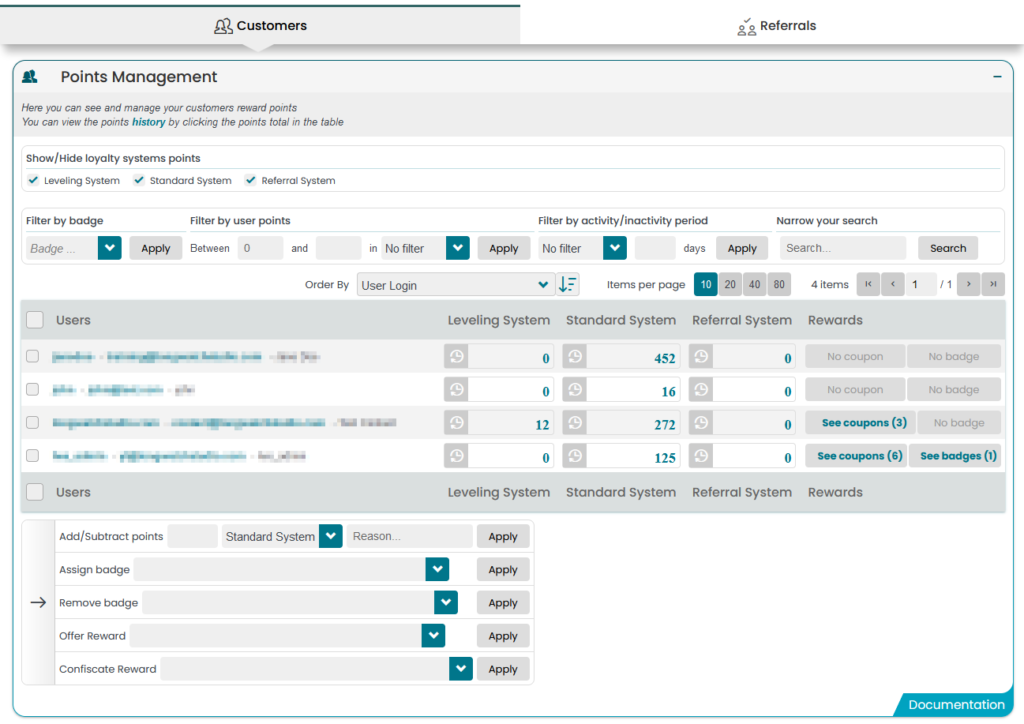 Show/Hide loyalty systems points
If you create several Points and Rewards Systems, they will all be listed here. To have a clear list of your uses, you can choose to show or hide the columns showing user points for these systems.
Filter by badge
If you use badges, you can use that filter to display only customers who own a certain badge. Simply select the badge in the list and click on Apply.
Filter by user points
You can filter the users by setting a range of points they should have in a Points and Rewards system. Set the 2 values, select the system and click on Apply.
Filter by activity/inactivity period
If you want to see people that have been inactive for a long time or people who were active recently, use this filter. Select if you want to show inactive or active users and set a number of days, then click on Apply.
Narrow your search
Search for a specific user. Enter the user name, nickname or email address and click on Apply.
User points and history
You will see each user's points for the displayed points and rewards system. If you click on the points, you will see a points history for that user :
User coupons and badges
If a user had unlocked WooCommerce coupons or Badges, you will see a button to see them. Each button will redirect you either to the coupons or to the badges page.
See Coupons button
You can click on the button to see generated coupons that belongs to the customer.
Actions
In this part you can perform different actions for your customers. Before performing an action, you must select at least one user by checking the box at the start of the user line.
After selecting a user, you can select one of the following actions :
Add/Subtract Points : This will let you change the number of points a customer has on a Points and Rewards System. Enter a number of points, select a Points and Rewards system and optionally enter a reason before clicking the Apply button. You have different possibilities for the points :

15 : will add 15 points to the user.
-30 : will subtract 30 points to the user.
=0 : will set the users points total to 0.

Assign badge : Use this action to give a badge to one or more customers. You need to have existing badges.
Remove badge : Remove a badge from a user. If the user doesn't own the badge in the first place, nothing will happen.
Offer Reward : Give a reward you've previously created on a Points and Rewards System. Simply select the reward in the list and click on Apply.
Confiscate Reward : Remove a reward from a user. Simply select the reward in the list and click on Apply.